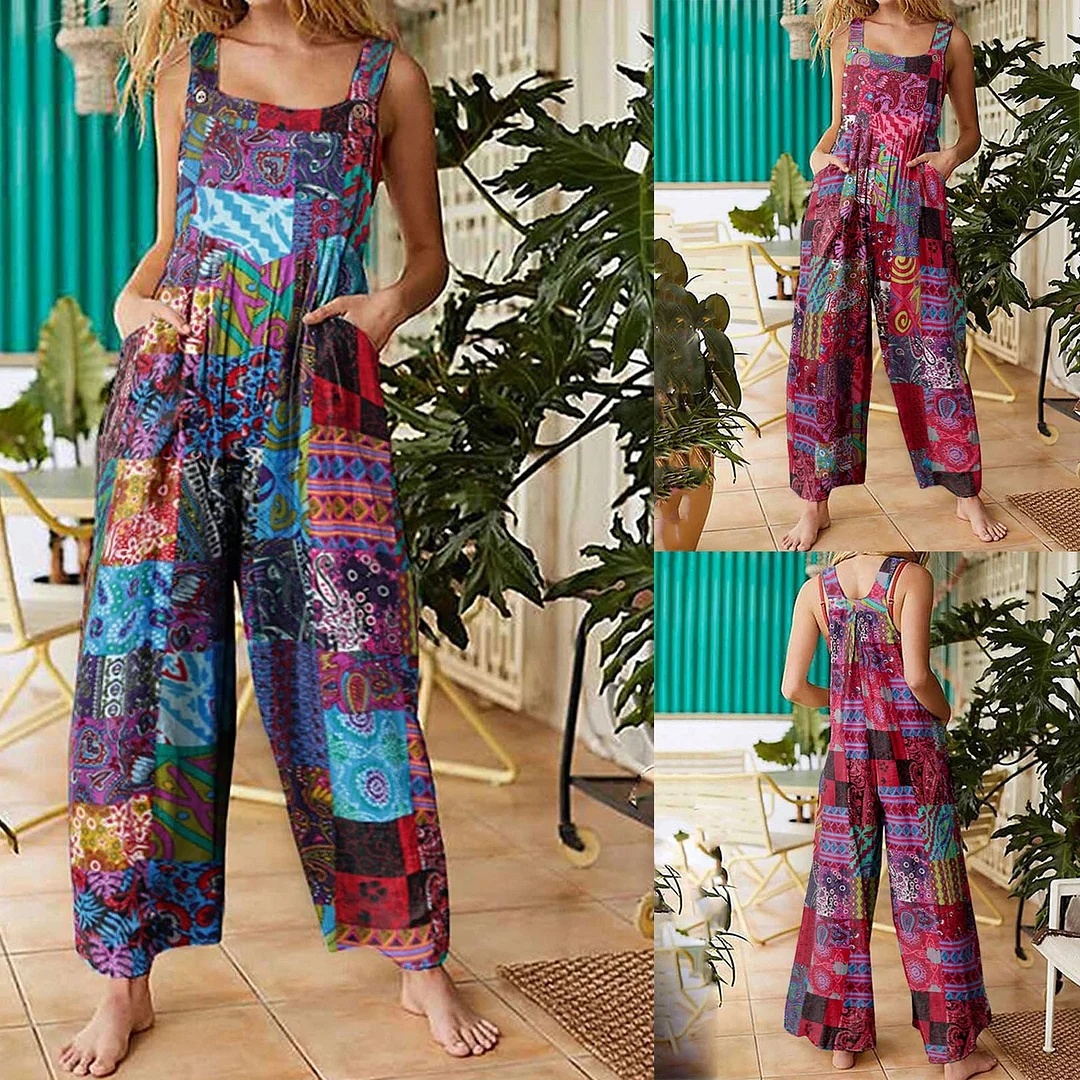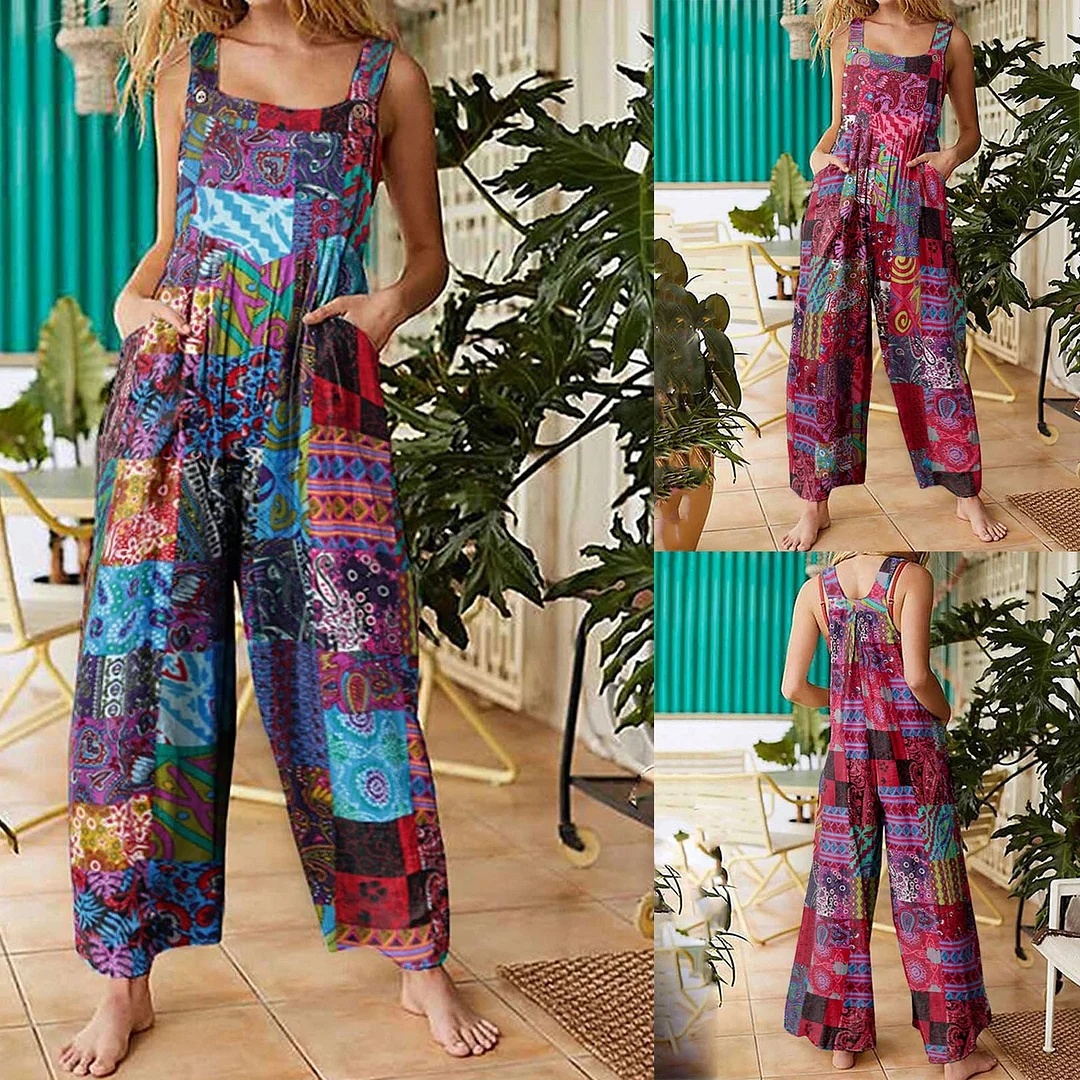 ${data.index + 1}/8
Women Summer Overalls, Multicolor Ethnic Style Square Neck Sleeveless Casual Jumpsuit with Pockets
Size Chart:
Size(cm)
SUS:6Length:132  Bust:92    Waist:96    Hip:120
MUS:8Length:133  Bust:96    Waist:100  Hip:124
LUS:10Length:134  Bust:100  Waist:104  Hip:128
XLUS:12Length:135  Bust:104  Waist:108  Hip:132
2XLUS:14Length:136  Bust:108  Waist:112  Hip:136
Size(inch)
SUS:6Length:51.97 Bust:36.22 Waist:37.80 Hip:47.24 
MUS:8Length:52.36 Bust:37.80 Waist:39.37 Hip:48.82 
LUS:10Length:52.76 Bust:39.37 Waist:40.94 Hip:50.39 
XLUS:12Length:53.15 Bust:40.94 Waist:42.52 Hip:51.97 
2XLUS:14Length:53.54 Bust:42.52 Waist:44.09 Hip:53.54 
Specification   
Condition: 100% Brand New
Material: Cotton and Linen
Color: Red/Blue
Style: Ethnic Style
Collar: Square
Sleeve Length: Sleeveless
Size: S/M/L/XL/XXL
Applicable Gender: Female
Applicable Age: Adults
Applicable Occasion: Indoor & Outdoor
Package Contents
1 x Women Romper
Friendly Tips:
1.Please kindly allow a 2-3% difference according to manual measurement.
2.Please check the measurement chart carefully before you buy the item. (1inch=2.54cm) 
3.Due to the lighting and monitors, there are slight differences between the picture and the real item. 
Promise
If the product has any quality problems, please feel free to contact us, we will help you solve the problem as quickly as possible.
TOPS + DRESSES (Inch)
| | | | | |
| --- | --- | --- | --- | --- |
| SIZE | Bust | Waist | Hips | US/CAN |
| XS | 32-33 | 24-25 | 35-36 | 0/1 |
| S | 34-35 | 26-27 | 37-38 | 3/5 |
| M | 36-37 | 28-29 | 39-40 | 7/9 |
| L | 38.5-40 | 30.5-32 | 41.5-43 | 11/13 |
| XL | 41 1/2 | 33 1/2 | 44 1/2 | 15 |
| 1X | 44-45.5 | 37-38.5 | 47-48.5 | 14/16 |
| 2X | 47-49 | 40-42 | 50-52 | 18/20 |
| 3X | 51-53 | 44-46 | 54-56 | 22/24 |
JEANS, BOTTOMS, + SKIRTS (Inch)
| | | | |
| --- | --- | --- | --- |
| SIZE | Waist | Hips | US/CAN |
| XS | 24-25 | 35-36 | 0/1 |
| S | 26-27 | 37-38 | 3/5 |
| M | 28-29 | 39-40 | 7/9 |
| L | 30.5-32 | 41.5-43 | 11/13 |
| XL | 33 1/2 | 44 1/2 | 15 |
| 1X | 37-38.5 | 47-48.5 | 14/16 |
| 2X | 40-42 | 50-52 | 18/20 |
| 3X | 44-46 | 54-56 | 22/24 |
SHOES + BOOTS
| | | | | |
| --- | --- | --- | --- | --- |
| SIZE | US/CAN | UK | EU | AUS |
| 5 | 5 | 3 | 36 | 5 |
| 5.5 | 5.5 | 3.5 | 36.5 | 5.5 |
| 6 | 6 | 4 | 37 | 6 |
| 6.5 | 6.5 | 4.5 | 37.5 | 6.5 |
| 7 | 7 | 5 | 38 | 7 |
| 7.5 | 7.5 | 5.5 | 38.5 | 7.5 |
| 8 | 8 | 6 | 39 | 8 |
| 8.5 | 8.5 | 6.5 | 39.5 | 8.5 |
| 9 | 9 | 7 | 40 | 9 |
| 9.5 | 9.5 | 7.5 | 40.5 | 9.5 |
| 10 | 10 | 8 | 41 | 10 |
SWIMWEAR + LINGERIE(Inch)
| | | | | |
| --- | --- | --- | --- | --- |
| SIZE | Bust | Waist | Hips | Cup Size |
| XS | 32-33 | 24-25 | 35-36 | 32A-32B |
| S | 34-35 | 26-27 | 37-38 | 32C-34B |
| M | 36-37 | 28-29 | 39-40 | 34C-36B |
| L | 38.5-40 | 30.5-32 | 41.5-43 | 36C-38C |
| XL | 41 1/2 | 33 1/2 | 44 1/2 | 38D-40D |
| 1X | 44-44.5 | 37-38.5 | 47-48.5 | 42C-42D |
| 2X | 47-49 | 40-42 | 50-52 | 44C-44D |
| 3X | 51-53 | 44-46 | 54-56 | 46C+ |