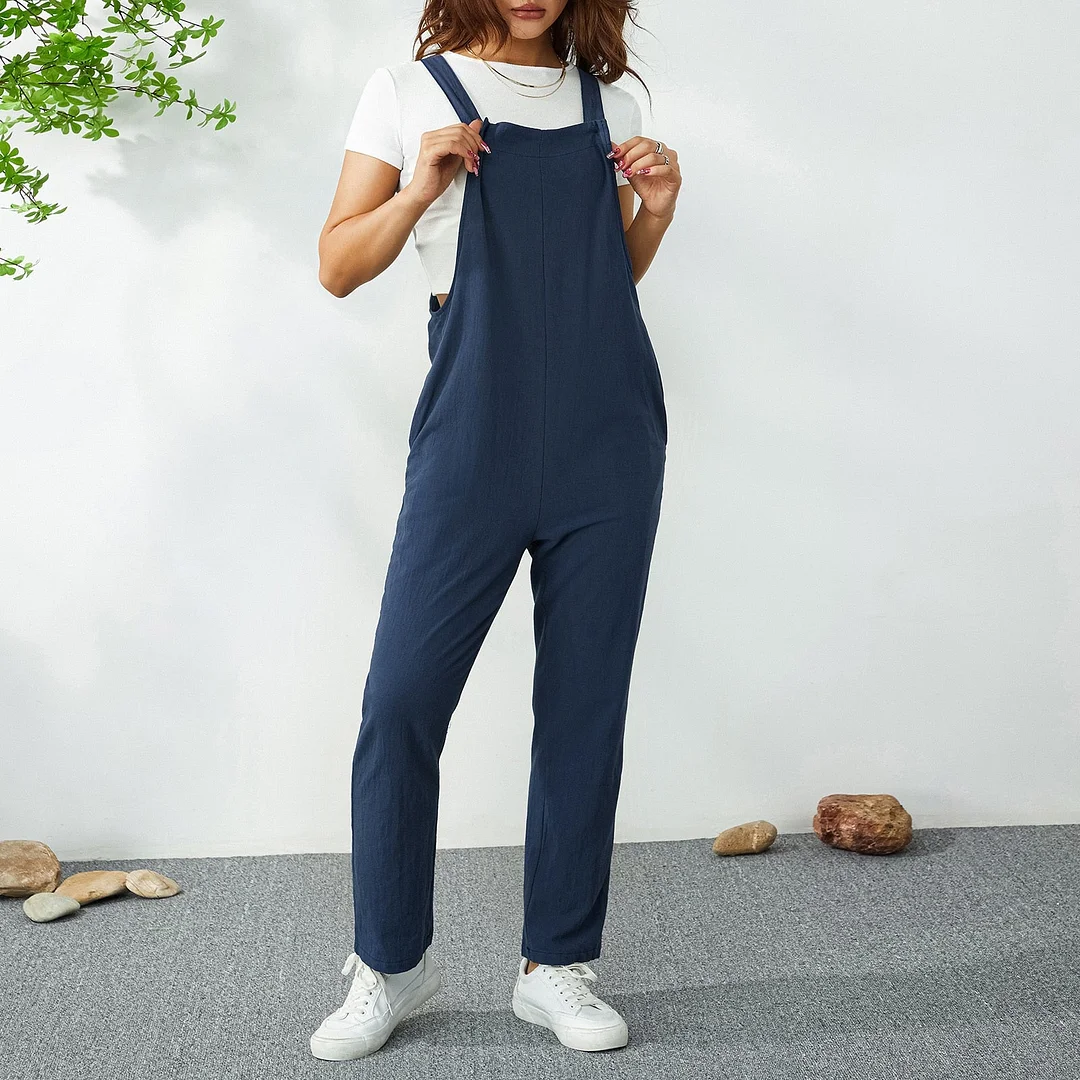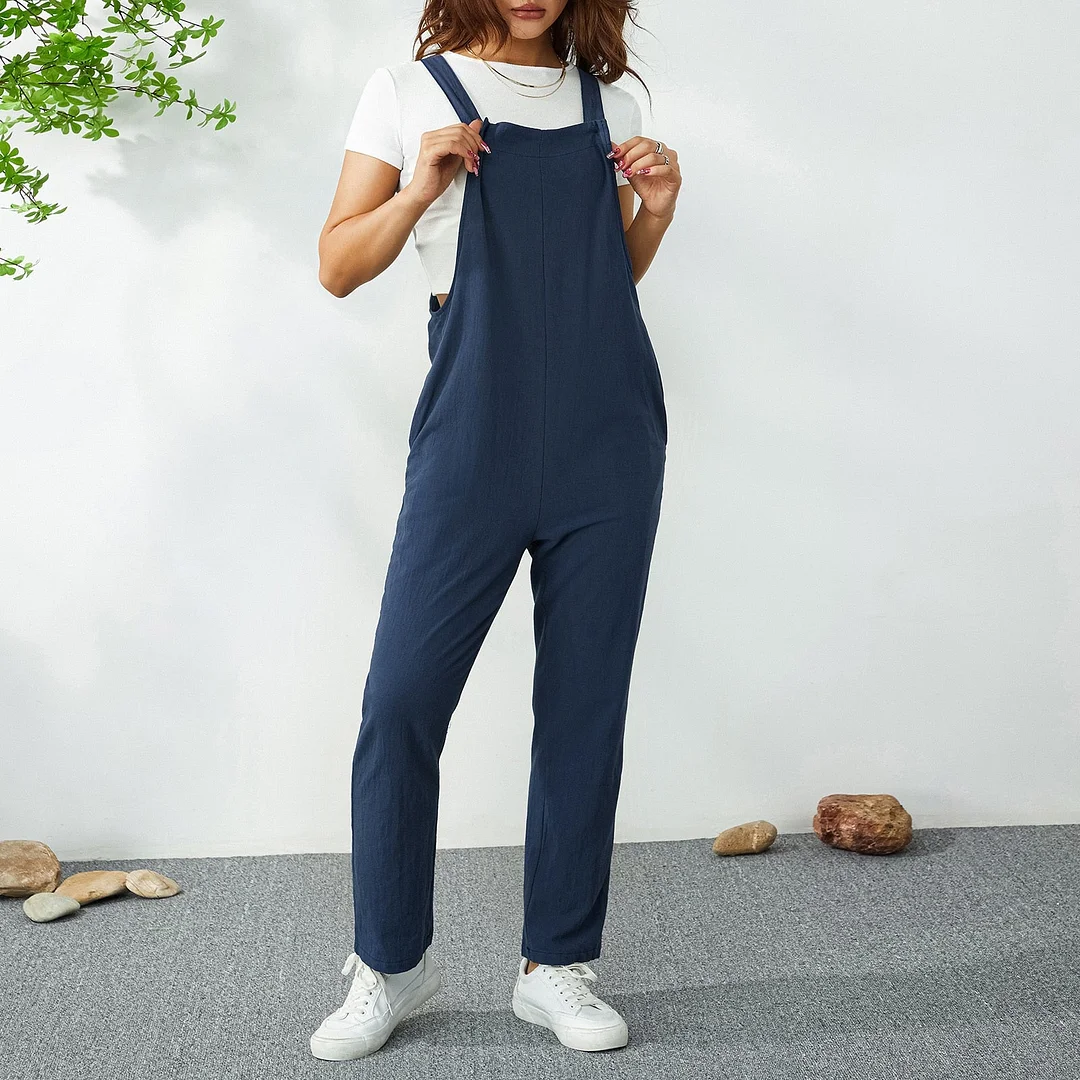 ${data.index + 1}/6
Solid Color Close-Fitting Suspender Trousers Bib Overall with Pocket
Description:
High-quality material, soft and comfortable, breathable and wear-resistant.
Solid color suspender trousers with pockets, close-fitting design, simple and stylish.
Suitable for friends gathering, travel, shopping date and other occasions.
The perfect daily wear for you in spring and summer.
Specifications:
Material: Cotton and Linen
Applicable Gender: Female
Applicable Age Range: Adults
Style: Casual Style
Features: Soft, comfortable, simple, beautiful, fashionable
Suitable Occasions: Most occasions in life
Size: S/M/L/XL/XXL
Color: Black/Army Green/Navy
Package Content:
1* Suspender Trousers
Notes:
Due to the lighting and monitors, there are slight difference between the picture and the real item.
Promise:
If the product has any quality problems, please feel free to contact us, we will help you solve the problem as quickly as possible.
TOPS + DRESSES (Inch)
| | | | | |
| --- | --- | --- | --- | --- |
| SIZE | Bust | Waist | Hips | US/CAN |
| XS | 32-33 | 24-25 | 35-36 | 0/1 |
| S | 34-35 | 26-27 | 37-38 | 3/5 |
| M | 36-37 | 28-29 | 39-40 | 7/9 |
| L | 38.5-40 | 30.5-32 | 41.5-43 | 11/13 |
| XL | 41 1/2 | 33 1/2 | 44 1/2 | 15 |
| 1X | 44-45.5 | 37-38.5 | 47-48.5 | 14/16 |
| 2X | 47-49 | 40-42 | 50-52 | 18/20 |
| 3X | 51-53 | 44-46 | 54-56 | 22/24 |
JEANS, BOTTOMS, + SKIRTS (Inch)
| | | | |
| --- | --- | --- | --- |
| SIZE | Waist | Hips | US/CAN |
| XS | 24-25 | 35-36 | 0/1 |
| S | 26-27 | 37-38 | 3/5 |
| M | 28-29 | 39-40 | 7/9 |
| L | 30.5-32 | 41.5-43 | 11/13 |
| XL | 33 1/2 | 44 1/2 | 15 |
| 1X | 37-38.5 | 47-48.5 | 14/16 |
| 2X | 40-42 | 50-52 | 18/20 |
| 3X | 44-46 | 54-56 | 22/24 |
SHOES + BOOTS
| | | | | |
| --- | --- | --- | --- | --- |
| SIZE | US/CAN | UK | EU | AUS |
| 5 | 5 | 3 | 36 | 5 |
| 5.5 | 5.5 | 3.5 | 36.5 | 5.5 |
| 6 | 6 | 4 | 37 | 6 |
| 6.5 | 6.5 | 4.5 | 37.5 | 6.5 |
| 7 | 7 | 5 | 38 | 7 |
| 7.5 | 7.5 | 5.5 | 38.5 | 7.5 |
| 8 | 8 | 6 | 39 | 8 |
| 8.5 | 8.5 | 6.5 | 39.5 | 8.5 |
| 9 | 9 | 7 | 40 | 9 |
| 9.5 | 9.5 | 7.5 | 40.5 | 9.5 |
| 10 | 10 | 8 | 41 | 10 |
SWIMWEAR + LINGERIE(Inch)
| | | | | |
| --- | --- | --- | --- | --- |
| SIZE | Bust | Waist | Hips | Cup Size |
| XS | 32-33 | 24-25 | 35-36 | 32A-32B |
| S | 34-35 | 26-27 | 37-38 | 32C-34B |
| M | 36-37 | 28-29 | 39-40 | 34C-36B |
| L | 38.5-40 | 30.5-32 | 41.5-43 | 36C-38C |
| XL | 41 1/2 | 33 1/2 | 44 1/2 | 38D-40D |
| 1X | 44-44.5 | 37-38.5 | 47-48.5 | 42C-42D |
| 2X | 47-49 | 40-42 | 50-52 | 44C-44D |
| 3X | 51-53 | 44-46 | 54-56 | 46C+ |